In 2003, it was revealed that Kellogg Brown & Root, a company eventually acquired by international conglomerate Halliburton, gave approximately $180 million in bribes to Nigerian officials. These bribes were an attempt to obtain a lucrative contract to develop Nigeria's liquefied natural gas project. After 6 years of legal wrangling, Halliburton has finally admitted guilt and agreed to pay $492 million dollars in fines to the United States government for violating the Foreign Corrupt Practices Act.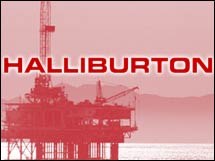 ANOTHER GUILTY INTERNATIONAL COMPANY
This is not the first, or second or third foreign company to be fined or have its employees punished by foreign governments for committing crimes in Nigeria. In 2007, German conglomerate, Siemens AG, was declared
guilty of paying bribes to Nigerian officials
. At that time, President Yar'Adua (who was then new to Aso Rock, Nigeria's seat of Presidential power) "ordered" the
Independent Corrupt Practices & Other Related Offenses Commission
(ICPC) to investigate the matter. However, till this day, the ICPC is yet to bring any of Siemen's corrupt employees or Nigeria's guilty officials to justice. And, a keyword search on the ICPC website (as of February 9th, 2009) does not pull up any Halliburton-related information.
WHERE IS NIGERIA'S CUT?
This reality calls into question whether or not the Nigerian government will indeed prosecute, fine and/or punish all individuals involved in what is clearly an open and shut corruption case with regard to Halliburton. Although, in October 2008, a spokesman for Nigeria's Economic & Financial Crimes Commission (EFCC) asserted that the corruption 'watchdog' was looking into the matter, there is yet to be any direct comment from the Commission or the President's office on this recent Halliburton settlement in the U.S.
This, unfortunately, does nothing to convince observers that Nigeria is indeed tough on corruption, despite the promises of President Yar'Adua to the contrary. Instead, it raises concerns over the EFCC's new leadership and its commitment to an anti-corruption campaign that in the minds of many Nigerians has stalled at best and is none existent at the worst. Now is an appropriate for the office of the Presidency to recommit itself to battling corruption, especially when the hardwork has already been done. The overwhelming evidence that the Nigerian government needs can be accessed from its ally, the United States.
By bringing every individual proven to be guilty in this Halliburton case to justice, with no opportunity to use 'plea bargain justice' as a means of escaping punishment, this administration and the EFCC could widen the trail in Nigeria's war against corruption. A trail that would be a crucial precedent for future attempts to punish corruption as a way of stifling its choke hold on Nigeria and Nigerians. Nigeria does not have the luxury of not taking a hard stance on corruption,despite the current economic squeeze and what must be a heavy workload for the nation's anti corruption agencies. This is especially the case given Nigeria's goals of achieving certain development standards by 2020. The strong direction of Nigeria's president will be needed to get the country back on its anti-corruption track and convince the masses that indeed, corruption will soon be a thing of the past.
Related Articles of Interest:
-
(Halliburton) Nigeria's Punishment Problem
-
Siemens & Nigeria - Corruption Inc.
- Corruption: The Common Denominator To All Our Problems