A recent rash of fighting near Jos left a death toll now numbering 500 and growing. Women, children and the elderly were the main victims and according to reports, most of the dead are Christians. The governor of Plateau State (of which Jos is the capital), has laid the blame for the violence and resulting massacre on Nigeria's military, but who is really to blame?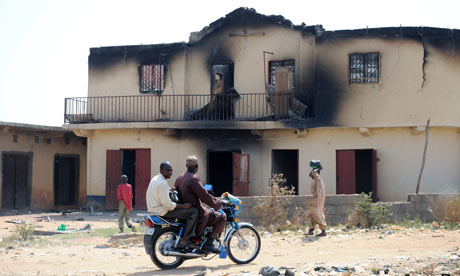 AN UNFORTUNATE HISTORY OF FIGHTING
The Jos region has been rocked with fighting for many years. As far back as
1994
, the area has been wrought with violence. Although the chaos ends up being characterized as religious, the tensions in the region also stem from additional factors such as tribal distrust, poverty and political motivations. In January 2010, text messages
incited
rioting that left many hundreds dead. The entire state was placed under curfew and the Nigerian military descended on Jos to keep the peace. The January fighting also led to calls for Governor Jang's
resignation
.
THE BLAME GAME BEGINS
In the wake of this most recent massacre, Governor Jang now accuses the Nigerian government of failing to prevent the fighting. Jang asserts that
he warned the military
of an impending attack, less than 24 hours before it happened. He
said
,
"I received reports at about 9 p.m. [Saturday] that some people with arms were seen around those villages, and I reported to the commander of the army and he told me he was going to move some troops there, and because it is near where I live, I even saw a tank pass through my house and I thought it was going towards that area. Three hours or so later, I was woken by a call that they have started burning the villages and people were being hacked to death. I then tried to locate the commanders but I couldn't get any of them on the telephone."
Jang's accusations are supported by certain Christian groups such as the Plateau State Christian Elders Consultative Forum and the Christian Association of Nigeria (CAN). CAN also alleges that it previously alerted the military to "mercenaries" entering the region and training locals to fight Christians, a claim that is strengthened by recent reports that a North African Al Qaeda group
offered to train
Nigerian Muslims to kill Christians. Saidu Dogo
said
,
"For quite some time we have alerted the government to training grounds in some part of the northern state where people are being trained to cause problems in the country... Nobody did anything about it. Many people come into Nigeria under the pretext of [being] pastoralists, they are mercenaries. They follow pastoralist routes to gain entrance, carry out their activities and then leave..." [sic]
The UN, the Organization of Islamic Conferences and other organizations have equally
blamed the Nigerian government
for failing to prevent the fighting. While the nation's
House of Representatives
is calling for a truth and reconciliation commission to stem the distrust and tension in the Jos region,
Nigeria's Senate
has commended Acting President Jonathan's response - a probe - to the fighting.
NIGERIA'S ARMY GOES ON THE DEFENSIVE
The Director of Information for the Nigerian Army, Brig. Gen. Chris Olukolade, responded to Jang's accusations by making some harsh comments of his own. Olukolade insisted that Jang's statement were an effort to attack the Army and smear its reputation. Olukolade also noted that for a former military officer, Jang "
demonstrated an embarrassing naivety in interpreting the dynamics of land operations." He explained that security in Jos is the responsibility of not just the Army, but the Police Force, the Navy and other security operatives and also stated that Jang's comments were a blackmail attempt,
"

[T]he Army is briefing appropriate authorities ... and ... appropriate response to Governor Jang's attack on the Army is forthcoming, it is necessary to reassure Nigerians that the Army is not involved in any complicity as suggested by Governor Jang through his numerous channels for blackmail. The Army will continue to make its vital input into the ongoing joint operations of the Special Task Force as duly mandated by the Federal Government of Nigeria."
POLICE BLAME "FACELESS, INFLUENTIAL PERSONS"
Plateau State's
acting commissioner of Police, Ikechukwu Aduba, informed the public that an investigation led to at least 200 arrests and that some of those arrested confessed to not just participating in the murders, but also of being paid to carry out the violence. Aduba also made sure to clarify that the sponsors of the March 7th destruction were yet to be revealed by those arrested.
NO MORE DISTRACTIONS
It is a shame that instead of springing to action, Nigerian officials choose to blame each other and underperform. It is an insult for Jang to suggest that because he informed the military of an impending attack, he is not equally complicit in the failure to prevent the resulting massacre. Jang is a former military man who served as governor of Benue state during the Babangida military regime. As such, he cannot feign ignorance in the measures that he had at his disposal. As he himself noted, the villages he suspected of being a source of problems were not far from him. So, the question must be asked, what prevented Jang from going there to personally meet with village leaders so as to ensure that violence would not break out? His statement that he is powerless because he does not command a security force for his state is one that has been expressed by other governors, like Lagos Governor
Fashola
, but that reality does not diminish his responsibility to go above and beyond in his duty to serve citizens and work tirelessly for their security, especially as his State has been a hotbed of violence far too often. Jang's recent
peace tour
and a Plateau State-created review panel were steps in the right direction to respond to the January fighting, but those acts and his alleged warning to the military do not absolve him of responsibility in this most recent massacre.
As for Olukolade, the army and other parts of the military, there is no doubt that Jang's accusations suggest complicity. However, to respond so callously and turn what is a serious situation of lives lost and futures ruined, into a catfight is unbecoming of a military officer and most definitely unbecoming of one sworn to serve the Federal Republic of Nigeria and her people. A simple acknowledgment that Jang's comments stemmed from a stressful situation and that more information was necessary to determine what, if any, lapses occurred would have been enough to not only get a jab in at Jang but respectfully respond to any allegations. Besides, a review of previous fighting in Jos revealed the complicity of security officials who opted for partisanship over security, so Jang's accusations are not completely baseless. That being said, there is little doubt that the Jos fighting and the many other incidents of crime, murder, and insecurity around Nigeria illustrate a failure of security forces in Nigeria to protect citizens.
The possibility that people were paid to attack and murder on March 7th, 2010 is not a surprising revelation. Nigeria has a history of politicians and other elites paying criminals to use their violent skills in an effort to thwart the efforts of opponents and perceived enemies. The only surprise in Aduba's statement is the fact that he did not use a word that has become a favorite of Nigeria's political elite when trying to blame the supposedly faceless and nameless elements that seem powerful enough to constantly make a fool of an entire government - 'cabal'. What Nigerians (this writer included) want to know is exactly who these people are and why they have chosen this moment to use Jos to satisfy their goals. It cannot be overlooked that since Nigeria entered a period of political uncertainty created by President Yar'Adua's absence, Jos has been rocked by massacres twice. Is the fighting in Jos and the resulting lack of an aggressive response by all arms of the federal government simply part of a larger plan to further destabilize Nigeria? Is this an effort to warn of future violence if the north does not retain control of the Presidency? Whatever the case may be, the deaths of so many Nigerians - both Christians and non-Christians - must not become a recurring habit and the loss of life must spur action from officials and the people themselves, such as the protests by women that have already occurred.
THERE ARE SOLUTIONS
Nigerian officials cannot continue to move delicately in reaction to the unrest and tension that abounds in Nigeria and has erupted to create an intolerable situation in Jos. This matter has gone beyond mere probes, commissions or more meetings. The book
SMS

Uprising: Mobile Phone Activism in Africa
tells of how Kenyan officials reacted to inciting and hateful text messages by sending messages of peace to 9 million subscribers so as to calm the situation. This example from Kenya shows that Governor Jang and the Nigerian government must be proactive in their response to unrest in Nigeria and work harder to prevent violence.
Sharing messages of harmony and ensuring that images of tribal, religious and political harmony are propagated is a key step to dampening the distrust that leads to massacre
.
Additionally, a push to sideline religious and political leaders that use their position to incite tensions in the region would also help in limiting a repeat of such fighting. It cannot be ignored that northern Nigeria was recently wrought by 2 extremist groups - Boko Haram and Kalo Kato - which used violence against Christians and non-Christians in furtherance of their misplaced religious ideas. In fact, after the Boko Haram violence in July 2009, Muslim leaders in the north pledged to
regulate
the activities of northern preachers, something that is yet to happen but must happen to prevent re-occurrences. The conclusions of a recent panel investigating Jos riots in 1994 and 2001 recommended that
the activities of "overzealous demagogues" were to be monitored and such individuals were to be neutralized to prevent violence
. The implementation of this particular suggestion would go a long way to improve security and calm nervous citizens worried about retaliatory attacks and a lack of adequate protection from authorities.
Furthermore,
Nigeria's 'leaders' must come out and speak against such violence. Especially those that are well-respected in the north
. The Sultan of Sokoto is not just a political leader but a religious leader that has the ears of the north. If there ever was a time for the Sultan who has repeatedly expressed forward thinking ideas on how the north and its leaders must transform, that time is now. Ibrahim Babangida, who was recently visited by American officials prior to this most recent outbreak, should be in Jos trying to remedy the fractious environment that that once beautiful city has become. The same goes for many other northerners that wield considerable influence.
The fact that many of these individuals have been considerably silent only fuels the suspicions and wild allegations that the Northern elite has a hand in these and other outbursts of unrest
.
Regardless of the above suggestions, education, jobs, and a way out of poverty will go a long way to increase peace across Nigeria. And, a key solution to this and many other of the problems Nigeria faces is accountability. Those responsible must be proven to have been complicit and they must be identified prominently, regardless of their station or connections. Nigeria cannot continue to lag along with it punishment problem - failing to deal with offenders, save for the poor ones. Accountability and its sister justice are key elements of every society and particularly the democratic ones. Until Nigerians are armed with the facts that created this situation, they will not be able to adequately respond. And if they do not have an opportunity to constructively respond, the stage will be set for bad blood and retaliation to spur a future repeat of the massacre that just happened in Jos. Only, the onslaught might not limit itself to Jos alone.
From the Archives:
-
Fresh Killings in Jos
-
Jos: The Power of Texts & Poverty
-
Religious & Political Violence in Jos
-
Boko Haram: Questions Remain
-
Aftermath of Northern Islamist Attacks
-
Militants In Northern Nigeria?
(Boko Haram)
-
Nigeria - List of Intolerant Nations
-
How To Shoot Yourself In The Foot With Al-Qaeda
-
Nigeria's 10MN Child Beggars